Grand Case
Exploring Grand Case, July 2019
The Culinary Capital of the Caribbean!!
Grand Case, the lovely village at one of the most beautiful bays on the island and famous for the culinary part of your vacation! And always a famous spot for the lgbt-life.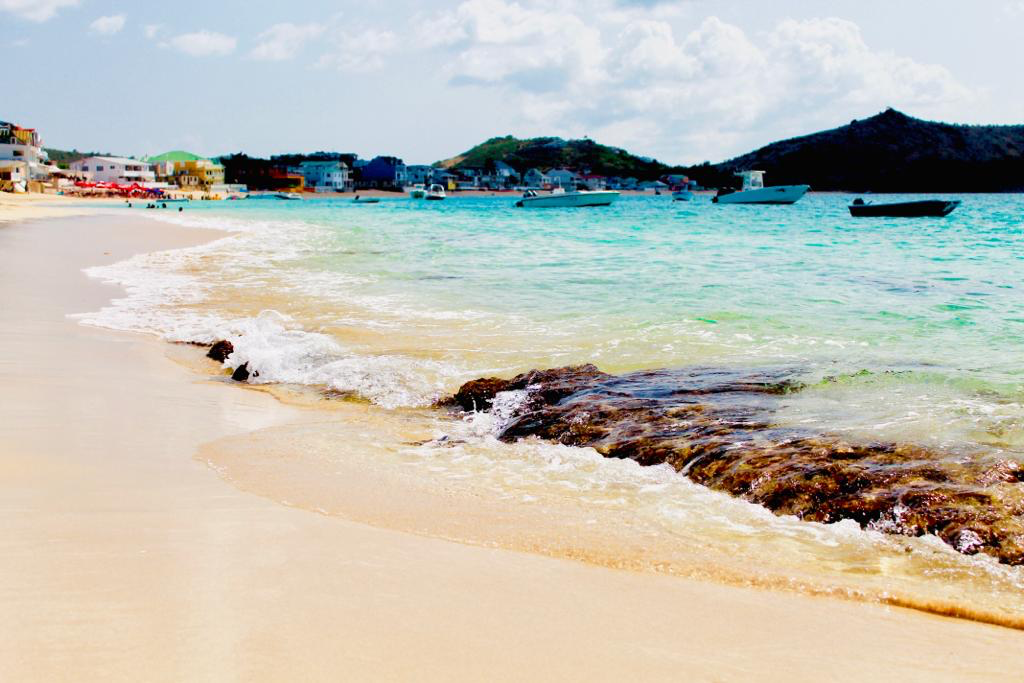 The time came for us to wander along the length of the village and see for ourselves all the restaurants, the snacks and the beachclubs. The main road, following the beachside, going through the little village is a one way – from the airport end down to the intersection near the Rainbow Cafe – so we approached the parking lot in Grand Case fairly early one morning.
The village
From there we started our wander across the bridge and on down to the road with the restaurants. It was early enough that shops and restaurants were just starting to get going for the day's events.
The Lolo's were busy getting their BBQs cooked – the smokey smell made us feel hungry. But that is for later today. First enjoying the wake up at Grand Case. Opposite the Lolo's you will find the cosy place La Frite au Vent. Belgian beers and the world-famous Belgian fries. Recommended! And yes ! They have put our famous Gay St Maarten sticker on the bar! And look ! Manneke Pis from Brussels is here watching the nice place too!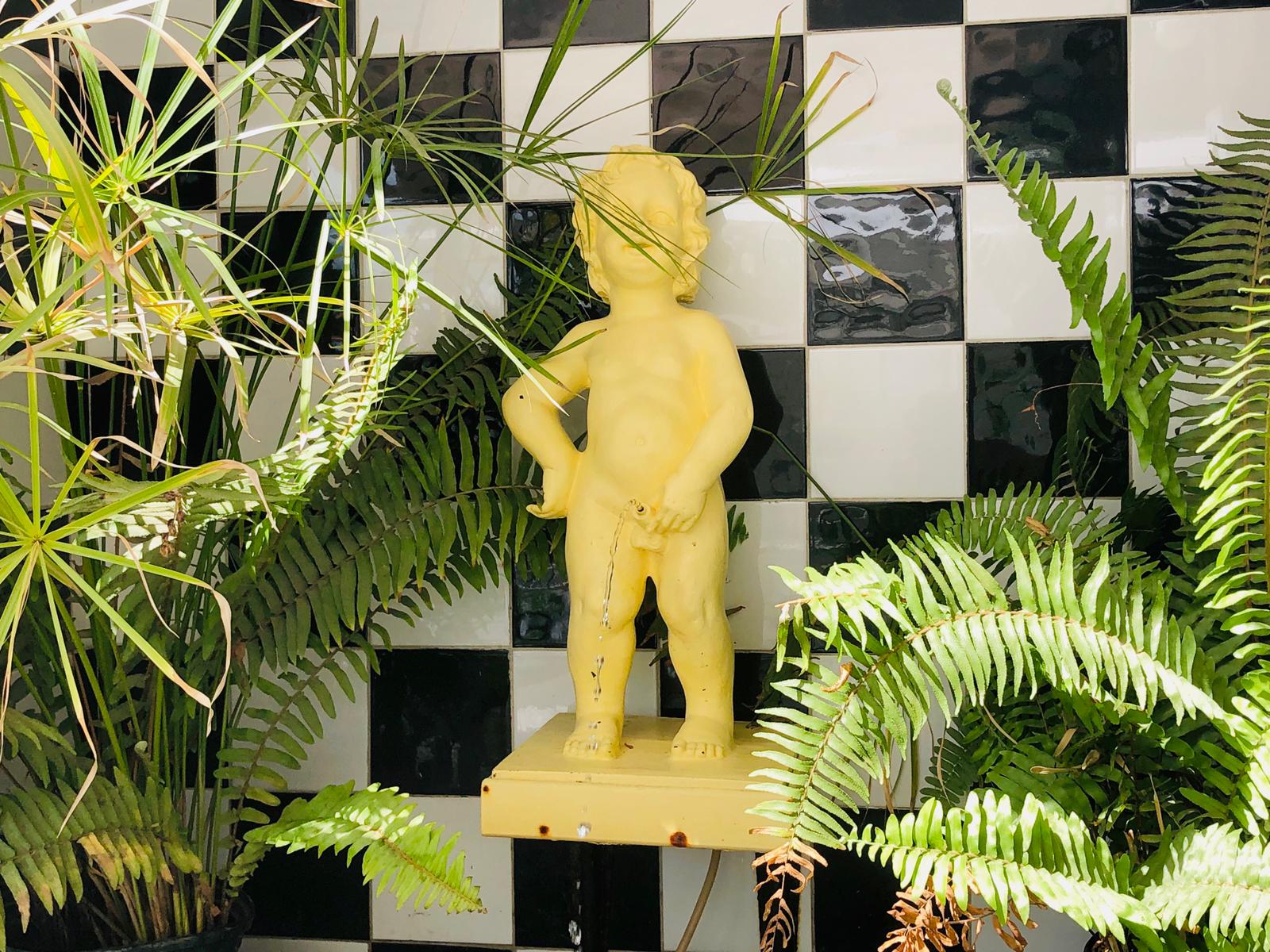 The pier
It is always fun to peer down alleyways and here in Grand Case there are plenty to peer through; each alley gave us the exciting feeling of seeing the most exquisite sea. The blue views are out of this world. The most well-known and popular alley leads down to the old pier. Under this pier one can have some of the best opportunities for stunning photo shoots.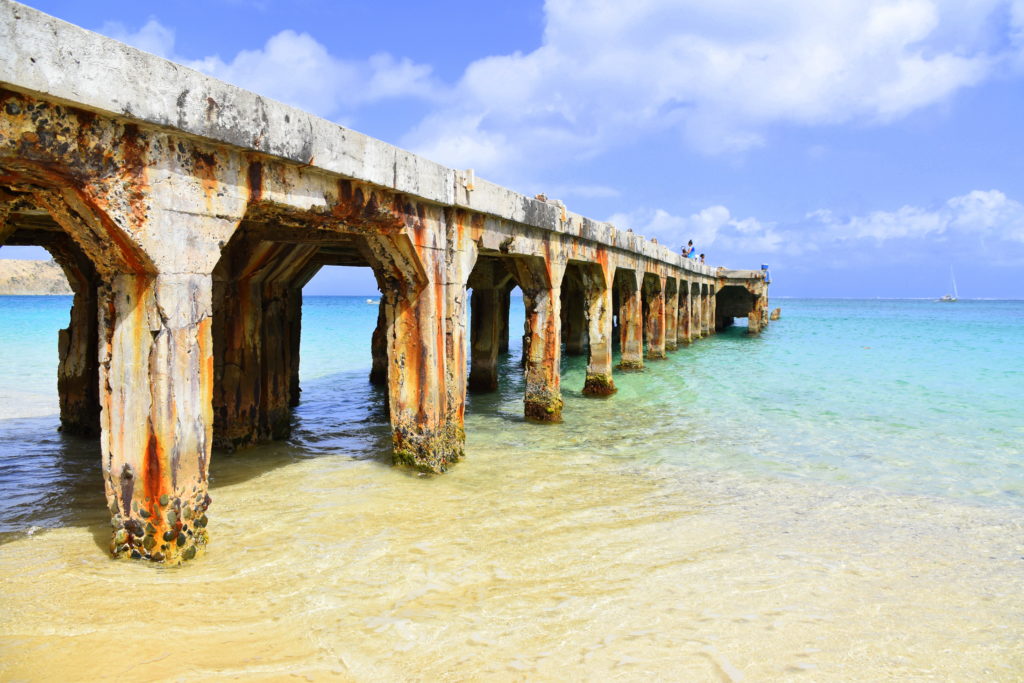 The views up and down the beach from this pier never fail to envelope one's dreams.
Rainbow Café 
A visit to Grand Case would not be complete without us popping into Rainbow Café. A famous beach gay spot for a long time. The beachclub is well known for their many beach parties throughout the year!  The views from here are stunning (so is the food and the service.)
Take your beach chair and order your delicious cocktail or a bottle of rose. It is time to tan !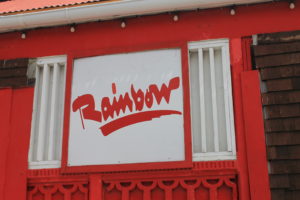 Grand Case is one of the best places on the island for food. Known as the gourmet capital of the island – it is well worth a visit. And very lgbt-friendly. The village is great for an early morning walk, wonderful over lunch time and excellent if you need a really good repast in the evening. We recommend Bistrot Caraibes, Piazza Pascal and there are many more. And overall during the day the beach is excellent for swimming and lounging on the beach chairs.
Bienvenue en Grand Case !
beach, Food, Gay Saint Martin, Grand Case, Rainbow Café Beach Club